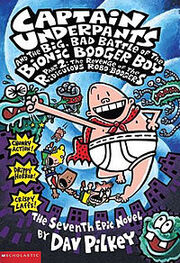 This is my book.
The genre
The first genre is chunky action
The second genre is drippy horror
The third genre is crispy laffs.
This is what happened
t
oday
So Melvin and Mr. Krupp switch brains and then George Harold and Mr. Melvin have to try and fix the problem. So Mr. Melvin told George and Harold to go and make a comic book saying that he bait Captain Underpants and he became the new epic hero since he looks like their principal
so they have to listen to him and well George and Harold make the comic Mr. Melvin has to make a time
machine
to go back in time to the combining
machine
to go back into his body.