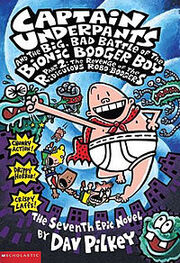 This is my book
On the picture you can see George,Harold Melvin the bionic hamster in a line like a ladder. The you can see Captain Underpants punching a bionic booger. You can also see a pretty cool back round.
This is the genres
The firs genre is chunky action
The second genre is drippy horror
and the third genre is crispy laffs/comedies.
This is what happened
So Melvin invented stuff like
combinin
g a sulu and a robot then he tried to combing himself with a robot but then he sneezed then he combined him self with his boogers. Then the bionic hamster bate him up then Melvin's mum and dad turned him back to human